Student Supply Lists 2018-2019
Below are student supply lists organized by grade for Pre-First through Middle School. Students should bring these items with them the first day of school.
Important: There is no need to label supplies with student names, as all supplies will be used collectively by the class throughout the year and divided between the General, Judaic and Hebrew Language Studies classrooms.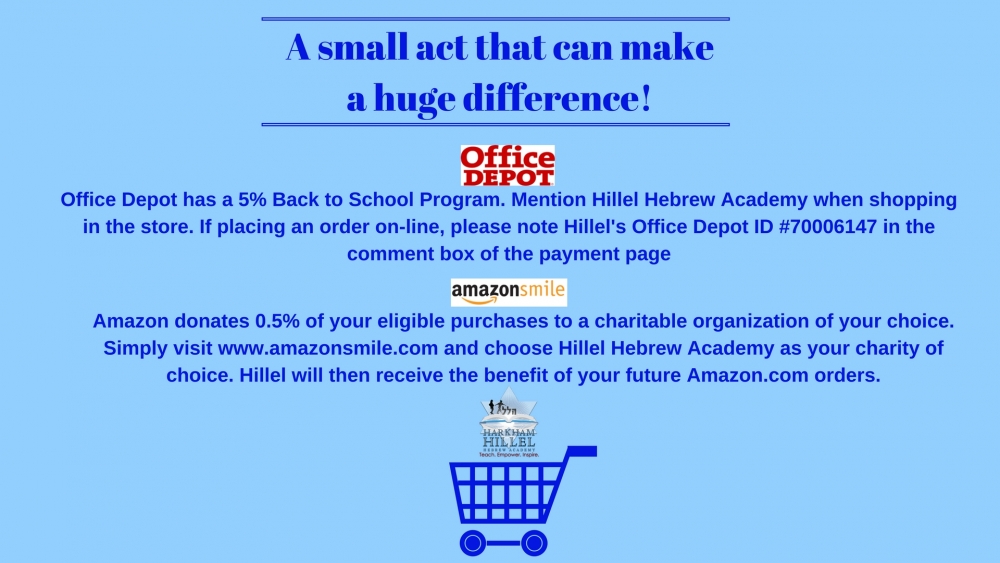 Pre-First
Backpack (1 standard size) labeled with name
Crayola colored pencils (1 box)
Crayola crayons (1 box)
Crayola thick markers (1 pack)
Crayola thin markers (1 pack)
Small glue sticks (3)
Baby Wipes
Four Pocket Plastic/Poly Folders (1 blue, 1 red, 1 yellow and 1 green- no design)
Ziploc bags (2 packages- 1 quart and 1 gallon)
One complete set of extra clothing in a large ziploc bag labeled (including underwear and socks-labeled with name)
Felt Tip Pens, Medium Point, Assorted Colors (1 pack)
Pencils (1 dozen)
1/2" Heavy Duty Binder (1)
Sheet Protector (50 sheets total - 25 for General Studies, 25 for Judaic Studies )
Composition Notebooks (1)
1st Grade
Thin Crayola markers (1 Pack)
Thick Crayola markers (1 Pack)
Crayola crayons (2 boxes)
Crayola colored pencils (2 Packs)
Pencils (1 dozen)
Felt Tip Pens, Medium Point, Assorted Colors (4)
Small glue sticks (3)
Large pink erasers (5)
Two-pocket, plastic/poly folders (2)
1 inch 3-ring white binder with clear plastic cover in front (3)
Sheet protectors (25 sheets - 2 pack)
Multi-color thick highlighters (1 pack)
Baby wipes (1 pack)
Student Scissors (1)
2nd Grade
1/2" Heavy Duty Binder (2- white and 2 black. Both should have clear pocket on outside)
2 composition notebooks
Spiral notebook 70 sheets- college ruled
Binder Dividers (2 packages of 8)
Regular dividers (2 packages of 8)
2-pocket Insertable Plastic Dividers (1 package of 8)
Erasers (3)
Thick washable Crayola markers (1 box)
Thin washable Crayola markers (1 box)
Crayola crayons (1 box)
Crayola colored pencils (1 Package)
Pencils (1 dozen)
Glue sticks (3)
Post-its (2 packs of 4)
White lined index cards (1 Package)
Two Pocket folder (plastic) of each color (1 red, 1 yellow, 1 blue, 1 green)
3rd Grade
1- inch WHITE binders (2)
Sheet protectors (2 packs of 50)
Lined paper WIDE RULED (200 sheets)
Pocket folders without prongs (2 of each color plastic/poly with pockets, red, blue, yellow, green, and two colors of choice)
https://www.amazon.com/C-Line-Two-Pocket-Heavyweight-Portfolios-33964-25/dp/B004Q9XK1C?th=1
Lined 3x5 index cards (1 pack)
Glue Sticks (3 sticks)
Colored Markers (1 box)
Crayons (2 box)
Colored pencils (1 box)
Pencils (1 dozen)
Dry erase markers - assorted colors (thick) (1 pack)
Dry erase markers - black (thin) (4)
Erasers (3)
Felt Tip Pens, Medium Point, Assorted Colors (4)
Post-its (2 pack of 4)
Composition books MEAD (5)
Scissors – SAFETY scissors (1)
Dividers (1)
Ziplock bags- QUART size (1 box)
Ziplock bags- GALLON size (1 box)
Highlighters - assorted colors (4)
4th Grade
2 binders (must be 3 inches) with pockets on the inside and outside (white)
Sheet protectors (100 count)
2 Boxes of CRAYOLA markers, 1 skinny pack and 1 thick pack
1 Box of 24 count CRAYOLA crayons
1 Box of CRAYOLA color pencils
Pencils (1 dozen)
Glue sticks (2)
Clorox wipes (1 pack)
Post-its (2 packs of 4)
Elmer's glue (1)
PLASTIC folders (2 red, 2 blue, 2 green, 2 yellow, 2 orange, 2 purple) must be plastic!!
1 Subject spiral notebook (1 of them) (plain cover)
4 Composition notebooks
1 Pack of loose leaf paper
1 Pencil pouch
5 subject notebook (2)
1 pack of construction paper
5th Grade
8 Two-Pocket Folders (4 for GS, 2 for JS, 2 for HS)
3 100- page spiral notebooks-college ruled (2 for GS, 1 for JS)
4 packages lined paper, college-ruled (2 for GS, 2 for JS)
4 Composition Books (100 page, college ruled- 2 for GS, 1, for JS, 1 for HS)
6 clear front report covers
1.5" three-ring binders (2 for GS and 1 for JS)
3 Packets of Dividers (2 for GS and 1 for JS)
Blue pens (1 package)
5 Highlighters- different colors
1 Pencil sharpener with catch
3 Glue sticks
1 Pair of Scissors
3" x 5" Lined Index Cards (2 packages)
3 erasers
1 Box of thin markers
1 Box of colored pencils
1 Pencil case
Hole Puncher (not a bulky one)
1 plastic portfolio folder
Girls - black sharpies (1 box)
Boys colored sharpies (1 box)
Middle School (6th, 7th and 8th)
Pencil case (1)
Box of pencils (2)
Pencil Sharpener (1)
Box of pens (blue) (1)
Box of pens (black) (1)
Dry Erase Markers (4)
Sharpie (1)
Colored Markers (1 box)
Colored pencils (1 box)
Scissors (1)
Glue Stick (3)
Flash Cards (3 packs)
3 Composition or spiral-bound notebooks (1 History, 1 English, 1 Ivrit)
One Blue folder for Ivrit (6th grade)
One Green folder for Ivrit (7th grade)
One Yellow folder for Ivrit (8th grade)
Handheld pencil sharpener (1)
Erasers (1 pack)
Multi-colored highlighters (1 pack)
3" binder (3 - 6th Grade only)
3" binder (2 - 7th and 8th Grade only)
Lined paper (2 packages)
Dividers (24 tabs)
Folder (1 homework folder, plastic/poly only with pockets)
Graph paper (1 package)
Ruler (1)
Stylus (1)
Headphones with microphone (1)