About Hillel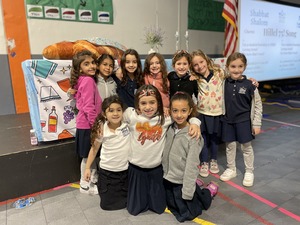 Our Mission
Hillel's mission is to teach, empower, and inspire Jewish students with Zionist Orthodox values in an innovative, nurturing, and child-centered environment.


Philosophy
Harkham Hillel Hebrew Academy, a Parent & Me through 8th grade Orthodox Jewish day school, is committed to developing well-rounded, engaged and confident students and citizens by offering developmentally appropriate, challenging, and highly creative educational programs in a nurturing, child-centered environment.
The Academy is dedicated to the intellectual, physical, and social-emotional growth and well-being of each student. Hillel recognizes the uniqueness of every child, and the principles of pride in oneself and concern for others are integral to our teaching of Torah values and middot.
We commit to the belief that the centrality of the State of Israel (Medinat Yisrael) is paramount to our Torah values. The love of one Jew towards another (Klal Yisrael), as well as respect for our diverse world and its communities are vital components of the educational experience.
Hillel's mission is to
teach,
empower,
and
inspire
Jewish students with Zionist Orthodox values in an innovative, nurturing, and child-centered environment.
Portrait of a Hillel Graduate
Academic Excellence in General and Judaic Studies
The Hillel Graduate is able to think critically and creatively, is ready to perform with distinction at the next academic level, and is committed to lifelong learning.
Intrinsic Judaism
The Hillel Graduate exhibits a desire to have an ongoing relationship with G-d, living a Torah based lifestyle and the ability to engage meaningfully using Jewish texts and the Hebrew Language.
Israel
The Hillel Graduate is committed to Zionist ideals and supporting the State of Israel.
Character
The Hillel Graduate is compassionate, honest, and lives with integrity.
Citizenship
The Hillel Graduate is an involved and active member of the community.
Culture
The Hillel Graduate feels empowered to cultivate his/her innate abilities and talents.
Adapted: April 2012
Characteristics of a Teacher of Excellence
A Hillel Teacher...

...Loves Children

...Is Dedicated

...Is Humble

...Has Integrity

...Is Committed to the School and its Mission

...Is Committed to his/her Colleagues

...Follows Behavioral Standards

...Has Professional Growth

...Communicates

...Is Intuitive

...Follows Academic Standards

...Is Flexible

...Is Enthusiastic

...Is Committed to Socializing Knowledge

History
Hillel was founded in 1948, starting with a handful of students in the basement of Beth Jacob Congregation. Hillel currently serves approximately 600 students from Early Childhood through 8th grade.
The establishment of Hillel became possible through the vision of its founder, Rabbi Dr. Simon A. Dolgin, zt"l. Under the direction of the Dean Emeritus, Rabbi Menachem A. Gottesman, a school was built that became a beacon of light in our community. In 2003, Rabbi Y. Boruch Sufrin assumed the mantle of leadership as Head of School. As we face the educational needs and challenges of the 21st century, Hillel has been blessed to have strong leaders who are constantly working to pursue its vision of academic excellence for all its students.