Camp Hillel
A camp for preschool age children.
We are excited to announce another fun filled summer at Camp Hillel! We have many exciting activities planned and keep adding more each day. Some of these include: Soccer, Yoga, Dance, Water Play, Gymnastics, and Performing Arts (plays and puppeteering).
To register for camp, please use the link below. Click on "Camp Signup" on the left to view the list of options in order to register.
https://app.simplyafterschool.com/camphillel/
General Information
Camp Dates: June 20 - August 8
Closed on: July 4, 2019 - "Happy Birthday America!"
Camp Hours:
Half Day: 9:00 am - 12:30 pm
Full day: Monday -Thursday: 9:00 am - 3:00 pm; Friday: 9:00 am - 2:00 pm
Early Morning Care: 8:30 am - 9:00 am - (No additional fee)
After-care: 3:00 pm -3:30 pm - $25 per week
All drop off and dismissal is from the Doheny Lobby.
Classes and Rates:
Class
(Going into for 2019-20)
Days
Ages
Rate*
Transitional Class
(18-24 m)
For more info, please contact Miriam Sinai at msinai@hillelhebrew.org
Pre-Nursery
(Half Day Only)
Monday - Friday
2 years old
$1,350
Nursery Half Day
Monday - Friday
3 years old
$1,350
Nursery Full Day
Monday - Friday
3 years old
$2,050
Kindergarten
(Full Day Only)
Monday - Friday
4 years old
$2,050
*Prices reflect the entire summer - all seven weeks. (For a weekly rate, see the chart below)
There is a one time registration fee (non-refundable) for each camper:
Pre-Nursery - Kindergarten - $50
Weekly Rate:
Half Day - $225 per week
Full Day - $325 per week
**An invoice will be sent for the registration fee once enrolled for individual weeks.
Hot Lunch is available for purchase. Please email camphillel@hillelhebrew.org to sign up for hot lunch.
A menu will be provided once it gets closer to camp time.
To contact the director, Rivkah Moorvitch, call (310) 276-6135 or email camphillel@hillelhebrew.org.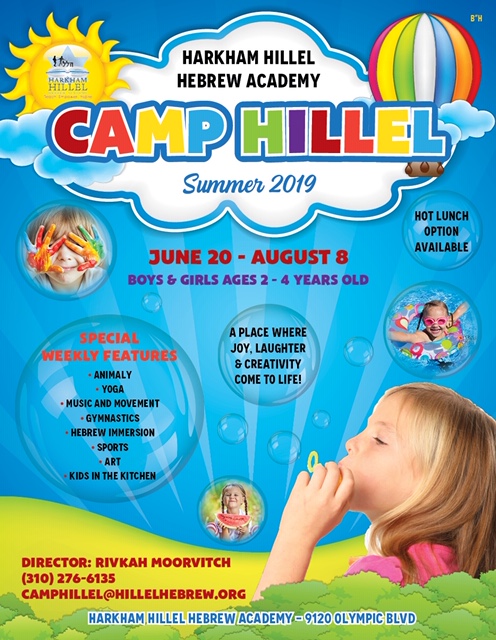 ---